MAY 2015
The Origin of Life Second Conference on History and Philosophy of Astrobiology, 8 – 10 May 2015 Hoor, Sweden .
EST 2015 Energy Science Technology Conference, 20 – 22 May 2015 in Karlsruhe, Germany.
JUNE 2015
Focus on Light: Meeting to celebrate the International Year of Light, Organised by the History of Physics and Optical Groups, Friday, 5th June 2015, University of Bristol, UK
RAD 2015 Third International Conference on Radiation and Applications in Various Fields of Research, 8 – 12 June 2015, Slovenska plaza complex in Budva, Montenegro.
Objectivity in Science 8th Munich-Sydney-Tilburg (MuST) Conference on Philosophy of Science, Tilburg University, Netherlands, 10 – 12 June 2015.
ECPB2015, Physics Meets the Social Sciences – Emergent Cooperative Phenomena, from Bacterial to Human Group Behavior, 25 Years Granada Seminar, La Herradura, Spain, 15 – 19 June 2015.
Greek alchemy: From the late Antiquity to the early Modernity, Workshop and Symposium, Athens, Greece, 25 – 27 June 2015.
JULY 2015
Leibniz - scientist, Leibniz - philosopher, International Conference at the Lampeter Campus of University of Wales, UK, 3 – 5 July 2015.
NANO–OPTICS: PRINCIPLES ENABLING BASIC RESEARCH AND APPLICATIONS, CCSEM (Centro di Cultura Scientifica Ettore Majorana) ETTORE MAJORANA FOUNDATION AND CENTRE FOR SCIENTIFIC CULTURE INTERNATIONAL SCHOOL OF ATOMIC AND MOLECULAR SPECTROSCOPY, NATO ADVANCED STUDY INSTITUTE, Erice, Sicily, Italy, July 4-19, 2015
ICHSEA, International Conference on the History of Science in East Asia, Paris, France, 6 – 10 July 2015.
GIREP EPEC 2015, Key competences in physics teaching and learning, The Conference of International Research Group on Physics Teaching, WROCLAW, 6 – 10 July 2015.
2015 IHPST, The role of HPS in Global Society, 13th Biennial International Conference, Federal Center of Technological Education, Rio de Janeiro (CEFET/RJ), Brazil, 22 – 25 July 2015.
AUGUST 2015
CLMPS, 15th Congress on Logic, Methodology, and Philosophy of Science, Helsinki, Finland, 3 – 8 August 2015.
LRB2015, Logic, Relativity and Beyond, 2nd International Conference, Budapest, Hungary, 9 – 13 August 2015.
Vietnam Cosmology 2015, 11th Rencontres du Vietnam: Cosmology 50 years after CMB discovery, Quy Nhon, Vietnam, 16 – 22 August 2015.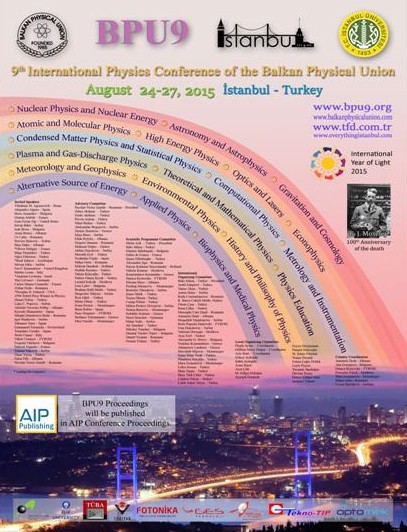 IX International Physics Conference of the Balkan Physical Union, Science Faculty, Istanbul University, Turkey, 24–27 August 2015
International Congress on Science and/or Religion: a 21st Century Debate 2015, Vienna, Austria, 27 – 29 August 2015.
eScience 2015, 11th IEEE International Conference on eScience, Munich, Germany, 31 August 2015 – 4 September 2015.
SEPTEMBER 2015

International Conference Science & Religion, National Hellenic Research Foundation - Institute of Historical Research and the National & Kapodistrian University of Athens – Epistemology & Science Education Lab, Athens, Greece, 3 – 5 September 2015

Impressions of the 34 Scientific Instrument Symposium, Torino, Italy, 7 – 11 September 2015, Scientific Instrument Commission

ECCG5, Fifth European Conference on Crystal Growth, 9 – 11 September 2015, CNR, Bologna, Italy.

50 Years of Dilution Refrigeration, 16 September 2015, University of Manchester, UK.

50th Anniversary of the 1st Helium Dilution Refrigerator, 20 – 25 September 2015, Portoroz, Slovenia

HORIZON 2020, 17th International EU Grant Academy, Portoroz, Slovenia, 20 – 25 September 2015

OCTOBER 2015

LNN2015, Light in Nanoscience and Nanotechnology, Hisar, Bulgaria, 19 – 22 October 2015

History of Mathematics: Models and Visualization in the Mathematical and Physical Sciences, Oberwolfach, Germany, 25 – 31 October 2015

Farewell to Magnox, Organised by the Nuclear Industry and History of Physics Groups, Wednesday 28th October 2015, Wylfa, Holyhead, Anglesey, Wales


NOVEMBER 2015

History of Mathematics: Models and Visualization in the Mathematical and Physical Sciences, Oberwolfach, Germany, 10 November 2015

NANO2015 17th International Workshop on Nanoscience and Nanotechnology, University of Chemical Technology and Metallurgy, Sofia, 27 and 28 November 2015, 10:00 A.M.

DECEMBER 2015

Superconductivity Group Winter Science Meeting, University College London, London, UK, 7 December 2015. Registration deadline: 1 December 2015

Quantitative Methods in Gene Regulation III, Corpus Christi College, Cambridge, UK, 7 – 8 December 2015. Registration deadline: 30 November 2015

18th Australian Engineering Heritage Conference, Newcastle, NSW, Australia, 7 – 9 December 2015

ICST2015, Ninth International Conference on Sensing Technology, Auckland, New Zealand, 8 – 10 December 2015

BRSG Christmas Meeting 2015: NMR & Crystallography, Institute of Physics, London, UK, 14 December 2015, Registration deadline: 7 December 2015

Low Temperature Techniques Course, Institute of Physics, London, UK, 15 December 2015, Registration deadline: 9 December 2015

GISAP Global International Scientific Project, 3-21 December 2015

16-21 December 2015

Science Fiction. Jules Verne and his science, International Workshop, National Hellenic Research Foundation, Athens 17-18 December 2015

AEBSCONF, 3th International Conference on Advances in Engineering and Basic Sciences, Institute of Refrigeration, Cry technologies and Eco energetics, Odesa, Ukarine, 17 – 18 December 2015

INTERNATIONAL AWARDS

European Foundations Award for Responsible Research and Inovation

Khwarizmi International Award in science and technology for researchers, inovators and inventors all over the worlk in Aerospase, Biotechnology, Environment, Electrical and Computer, Materials, Mechanics, Mechatronics, Information and Nanotechnology and Industry and Technology Management is implementing annualy since 1986 (twenty eight years). Applications in English are welcome no later than 10 November 2015. The Khwarizmi International Award will present in a prestigious ceremony held in Tehran in February 2016.

Institute of Physics Awards 2016
Isaac Newton medal International award

Born medal and prize commemorate Max Born who died in 1970. It is International bilateral award. The Institute of Physics (IoP) and the German Physical Society set up this award in 1972.

Occhialini medal and prize is International bilateral award given from the Italian Physical Society and the Institute of Physics (IoP) to honor the memory of Giuseppe Occhialini since 2007.

Dirac gold medal is specifically for theoretical, mathematical and computational physics named after P A M Dirac in 1985

Faraday gold medal is established in 2008

Glazebrook gold medal and prize is instituted in 1965

Swan gold medal is known as Business and Innovation Medal.

Bragg medal and prize is education and outreach award given for the popularization and teaching of physics

Kelvin bronze medal and prize is education and outreach award instituted in October 1994 for outstanding contribution to public engagement within physics.

Appleton medal and prize is subject award. It has originally been known as the Chree medal and prize memorated to Dr Charles Chree (President of The Physical Society 1908 – 1910)

Franklin medal is a subject award given for research in physics, life sciences, medical and biological physics. Rosalind Franklin is a x-ray crystallographer who understands structure of DNA. The medal is accompanied by a prize of ?1000

Gabor medal and prize is a subject award given for research in physics. It is known as a Duddell medal since 1923. William du Bois Duddell invented the electromagnetic oscillograph. Dennis Gabor is a Hungarian – British physicist. He invented the technique of holography, a method of photographical recording and reproducing three dimensional images and received the Nobel Prize in Physics (1971)

JOBS

Brightrecruits Cerncourier Science Europe University of Copenhagen

History and philosophy of science permanent position, Department of Science Education, University of Copenhagen, Denmark, Starting from 1 March 2016, Send inquiries to Hanne Andersen, Deadline 10 December 2015.

RESEARCH CENTERS

Fulbright Bulgarian-American Commission for Educational Exchange

CTR Carinthian Tech Research AG is a Center of excellence in southern Austria (Villach)

JOURNALS

Colloid and Interface Science Communications